Hi everyone – I just got back from vacation and discovered that I screwed up the schedule and never published the following blog so you'd know I'd be away until today. The blog was originally supposed to appear on August 29th. Oy.  I am so sorry. I thought I'd figured everything out and was so organized…  So now, if you'll indulge me, I'd appreciate catching up.  As a little extra today, here comes the cover reveal–you are the very first to see this. It's not even been on Facebook yet!
We'd recently talked about first lines of famous books. I introduced you to four author friends who are joining me in releasing an anthology of stories based on holidays. The book is coming out in mid-October. You've gotten a taste of everyone's story except mine! So here's what I had prepared for August 29th:
CELEBRATE! — A five story anthology plus a novella about holidays we celebrate throughout the year. All written by award-winning authors of On Fire Fiction.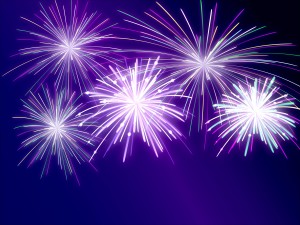 The month has flown by, and today is the last of the posts about holidays, short stories and the anthology CELEBRATE! of which I'm so proud to be a part. True confession: this is my very first time contributing to a group project. In the past, I just didn't have the opportunity. But now, as an indie pubbed author, I've got the freedom to create opportunities simply by finding other writers who might be interested, and then–just doing it!
If you're familiar with my work, you know that my romance novels contain lots of families. It seems I enjoy working with "a cast of thousands" rather than with a lone hero and heroine. But the families in my books are hurting and must struggle to find their happy endings. I find this set-up strange because I grew up in a very solid and happy family. So maybe I want everyone to have what I had. My short story is no different. Two lonely adults with two recalcitrant kids are challenged to find their way to love and laughter.
I chose to combine MOTHER'S DAY and FATHER'S DAY as my holidays to celebrate. It's tough to separate them when the theme of the story is second chances for everyone–the adults and their children. Although this story has never been published before, it has been seen by other eyes. I entered the shorter version into a national short story contest when I first wrote it some years ago, and it placed in the top ten entries out of almost 2000. That achievement gave me the confidence to keep writing, to keep trying for a professional career. And here I am!
STORY TITLE:  Man of the House   
FIRST LINES:  This can't be good news. The readout on Nancy Wyatt's desk phone said Pulitzer Middle School, and her stomach knotted as tightly as a fishing line around bait.
Uh-oh. Doesn't every mom's stomach hurt when her kid's school calls in the middle of the day? Poor Nancy. What's in store for her after she picks up that receiver.
I hope this peaked your interest as a first line. Maybe not in the class of "Call me Ishmael," but in its own class of contemporary fiction.  As a reminder, my women's fiction novel, FAMILY INTERRUPTED is available at all the usual places that sell electronic books. But it's also available in paperback at Amazon or CreateSpace.  Here's a pic of me holding it in my hot little hands.:
I still get a kick out of seeing it!
As always, thank you so much for stopping by. I hope you've enjoyed this series of blogs about the authors of CELEBRATE!  And I hope you add the book to your collection.
Announcement:  I'll be on vacation next week. Hope to see you for the next edition of Starting Over on Thursday, September 12th.  Thanks for being loyal visitors. I appreciate each and every one of you!
Thanks for letting me share the background of this story a little later than I had in mind. Next Tuesday, we'll be back to regular blogs about Starting Over.

CONTINUING THE AUGUST CONTEST AND WILL POST A WINNER ON TUESDAY. JUST MAKE A COMMENT AND YOUR NAME WILL BE ENTERED. THE PRIZES ARE A CHOICE OF ONE THE SELECTIONS BELOW AS WELL AS A $25 GIFT CERTIFICATE TO AMAZON OR BN. YOUR CHOICE 🙂