A cancer survivor never forgets anything that has to do with her medical
experience. This includes discovering the lump, the gasp when receiving the actual diagnosis, the crappy treatments, and most important, the support of friends and family.  When all of that is in the rear view mirror, she never, ever forgets doctor appointments.
I had my regular six month appointment this week on Tuesday. You may have noticed a FB post about it. Once made, I never change the  appointment. This year, I gave up a tour and luncheon at the Moffitt Cancer Center's main campus in north Tampa because of my appointment at their smaller facility across town. I didn't know about the tour when I scheduled my appointment. Just too bad for me. I didn't change the appointment. I wouldn't change the appointment. Perhaps I'm superstitious. Ya' think?
I was NEVER a superstitious person before I became a writer. Shortly after beginning this career, I began noticing my "rituals." First, I close my office door. Against who? I don't know. I'm usually alone in the house. Second, I drink coffee from the same mug every day. Written on the mug are the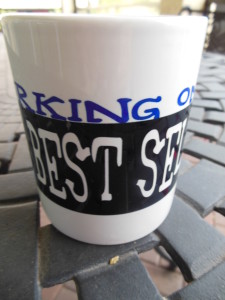 words: Working on a Best Seller. I hand wash it daily so it's ready for the next morning. Thirdly, no radio, iPod, television or any aural distractions allowed. Other authors must create a playlist for each book before they start writing, but I need silence. In addition, I can't begin a book without first thinking up a title. Even if it's changed later on, the manuscript MUST have a title before I begin Page One. I also can't begin a new story without arranging the research folders on the table next to me…and arrange them just so. I have to begin each day with the piles exactly the way I want them.
Once at the computer, I check email first. Then Facebook. Sometimes a game of Spider Solitaire. The truth is, I'm procrastinating the real work–writing the book! Creating something out of nothing is hard. Very hard for most writers. But here's another truth: once you sit down and jump back into the story, the writing becomes easier. It's the thought of starting again that's worse than the actual doing. In any case, writers have developed a load of ways – rituals – to procrastinate the work.
Which brings me back to medical appointments.  My check-up this week was fabulous! My doctor is fabulous. I gave her a copy of HOPEFULLY EVER AFTER and she immediately started browsing it and laughing out loud. "I love the chapter titles. Oh, look, the Rolling Stones."  And then, "I have a lot of breast cancer patients who've had the disease twice."  Just like me. I gave her bookmarks to share with others.  She doesn't know it yet, but she's in the chapter called, The Search for Dr. Wonderful.  She's also in the Acknowledgement section.
I mentioned FORCE – Facing Our Risk of Cancer Empowered–which is the only non-profit foundation in America that focuses solely on hereditary breast and ovarian cancer. It's located in Tampa, and my doctor knew about it! Some of her other patients…the two-time survivors…must be aware of it, too.
It's almost three years for me now, and my luck is holding. I'm not taking any chances whether rituals or superstitions make sense or not. I don't walk under ladders, but I do keep original appointments.
Anyone out there have their own rituals or superstitions? Come on. Tell all. Curious minds want to know 🙂
As always, thank you for stopping by.  I hope to see you for the next edition of Starting Over.

OCTOBER CONTEST:  Two winners in honor of Breast Cancer Awareness Month. Post a comment and your name will be entered in this month's drawing for two of the books shown below and a $25 gift certificate to either Amazon or BN. Your choice!