I AM NOT JULIA CHILD!
But on Sunday, I wished I were. Last time I struggled to make pecan pie. This time it was crepes. Crepes!
Two months have passed since the last neighborhood dine-in where several people host a dinner for eight or ten followed by all participants having dessert together. Everyone is expected to contribute something to either the main meal or dessert. Assignments are made by the "committee." Very fair. But here's my question:  Why, oh, why do I get the assignments that challenge my sanity?
Last night's dinner had a French theme. I could have provided an hors d'oeuvre of assorted French cheeses–Brie comes immediately to mind–and fruit. Grapes, kiwi, raspberries…But non-non, I got crepes. Made from scratch. With nutella, chocolate sauce, sliced bananas and whipped cream. So let's take this piece by piece.
A recipe was provided for the crepe. Eggs, flour, milk, salt, oil. Everything processed in a blender. So far, so good. Then came the actual "pour 1/4 cup of batter into pan, tilting to coat surface. Turn once until golden." Friends, when the blender is filled with batter, you can't really read the amounts on the side of the glass. So, I estimated. I poured a little oil into my non-stick 8 inch skillet and then poured some batter. Oops.
Did I say a little oil. Non, non, my friends. Too much oil! Now I realized what "brush with oil" meant. I hurriedly searched for a basting brush while the first crepe became "golden"  on one side. When I thought it was done, I took two spatulas and turned this poor little pancake over. A minute later, I slid it onto a plate. This prototype crepe had ragged edges, "golden" was questionable with all the shades of brown, and the thickness was uneven.  In essence, the crepe looked awful. In fact, it looked like another word that starts with c-r–.
My stress immediate jolted skywards. Fifty people would be looking at these crepes later on, eager to culminate their French style meal with the quintessential French dessert. Oy. Trying again, I poured off a little oil into a small dish and dipped in the ends of my non-stick brush before brushing the bottom of the pan. This time I poured a bit more batter and tilted, tilted and tilted that pan, cursing under my breath the entire time. With each crepe, I wished Julia were in my kitchen, at my stove, relieving my stress. Since I couldn't have Julia, however,  I turned to music.
I hit random play on my CD player and immediately  BARBRA, NEIL, BILLY, ELTON and Susan Boyle had me dancing and moving, spatulas in hand. Instant stress relief!  As I continued to estimate and pour and tilt and "turn once until golden," I began thinking the crepes looked pretty good. I stacked them, paper towel in between, until I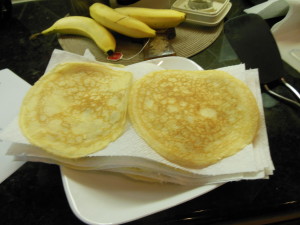 had enough batter left in the blender for just one more crepe. Images of TV chefs deftly handling their pans filled my mind. Wasn't I supposed to be a French chef? My crepes deserved a grand finale.
I looked up at my kitchen's the high ceilings. I looked at the 8 inch pan. I brushed it with oil, poured the last of the mix, waited a minute and carried it to middle of the room. I hefted the pan a couple times to get the feel of it, glanced once more at the ceiling, then at the pan and…I tossed that sucker straight up. Then watched it come down and land.
Perfect!!  I'm taking a bow. Thank you, thank you, thank you. I never could have done it without Julia at my side. With confidence returned, I attacked the chocolate sauce.  But that's another story.  Maybe next time…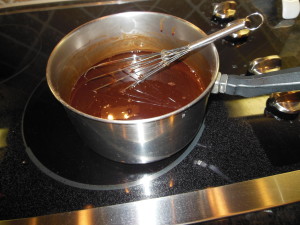 As always, thank you so much for stopping by.  A heartfelt thanks to those of you who've picked up a copy of HOPEFULLY EVER AFTER. If you haven't gotten it yet, I hope you'll consider it. And I certainly hope to see all of you for the next edition of Starting Over.

OCTOBER CONTEST:  To celebrate the release of Hopefully Ever After, I'm awarding prized to two people. Gift certificates for $25 and two books from the choices below. All books have been recently released from the authors of On Fire Fiction. Just post a comment and your name will automatically be entered for October's drawing.