CELEBRATE! — A five story anthology plus a novella about holidays we celebrate throughout the year. All written by award-winning authors of On Fire Fiction.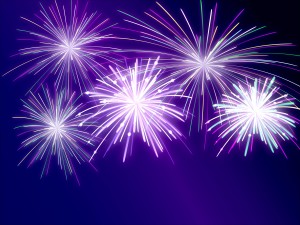 I love presenting this series of posts to you because my writing friends are some of the greatest people I know. Always willing to listen and give advice. Never afraid to ask for it either. Just as with other friends, these are relationships based on trust. I've known most of these gals for many years, and I can say without hesitation that they work hard and love creating stories. When they get emails from their readers…well, that's the whipped cream on the cake 🙂
I'm very pleased that my guest today is Debra Salonen, a California girl whose very first published book was released about the same time mine was. We met each other at what was our very first
writers conference in July 2000. Turned out we had the same editor! One of the qualities I admire about Deb is her ability to turn off the stress. Hiking and yoga are her secrets. Another quality I admire is her willingness to try something different with her writing. She came up with an adorable but naughty four book romantic comedy series for the "55 and better" generation called Screw Senility which sets a very different tone from the traditional romances she'd been writing. This is hot!  But she still managed to give her heroine a happily ever after!
What holiday did Deb choose for her story? CHRISTMAS! Here's the story behind the story in Deb's own words:
Kindness gets to me every time. Maybe that's because my mother, Daisy Bagby Robson, was one of the kindest women I ever met. I have numerous memories of her generosity, including once when she decided I wasn't using my bike anymore, so it should go to a poor child I'd never met. As I recall, I reacted as any spoiled baby-of-the-family might. I threw a fit. She patiently described this other child's circumstance as it compared to mine…in other words, she guilted me into agreeing. 
I wish I could say I instantly became as giving and generous a my mom, but that would be a lie. Still, the memory stuck, and when my children were very young, I wanted to share the essence of this memory in a way that might teach and entertain. I wrote "My Christmas Angel." Longhand, on lined paper. I read it to them every Christmas for a few years, then tucked it away in my files.
A year ago, my daughter asked me, "Didn't you write a Christmas story once? Where is that? I'd like to read it to Daisy (my granddaughter)." 
Ah…life comes full circle…courtesy of epublishing.  I pulled out the story and read it. And, as happens with writers, I immediately wondered what happened to Abigail and Dickie–the little children in the story. Why…they'd be thirty-some years old by now. All grown up. With children of their own…and so the story begins.
STORY TITLE:  My Christmas Angel
FIRST LINE:   "Read me your story, Mommy. Please. Before you go. Plee…ase."
Oh, yeah. I recognize that ploy…and I bet you do, too. One more story, Mommy. Another glass of water.  Someone doesn't want to go to sleep. Someone doesn't want his mom to leave. In the next paragraph, we quickly learn about young Ben and his divorced mom who was on her way to a holiday party given by her ex-sister-in-law.  Deb Salonen manages to draw us into the lives of these two lovely people very quickly and we want to know what happens next.
What's next on Deb's writing agenda?
"I'm back at work on my next project: a 3-book romantic suspense series called K.A.B. (Karma's A Bitch) Investigations."
Find out more about Deb Salonen and her books at:   www.debrasalonen.com
As always, thank you so much for stopping by. You'll meet another of my author friends at the next edition of Starting Over.  Hope to see you then.

POST A COMMENT AND YOUR NAME WILL BE ENTERED INTO MY AUGUST CONTEST. THE PRIZES ARE A CHOICE OF ONE OF THE SELECTIONS BELOW AND A $25 GIFT CERTIFICATE TO AMAZON OR BN. YOUR CHOICE!