I'm one of those people who eat to live, not live to eat. So I wouldn't call myself a foodie.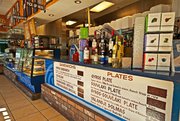 But there are definite exceptions to my take-it-or-leave-it  eating habits. Why is it that I find the very best meals, meals that I would become a foodie for, in the small, elbows-on-the-table kind of places. You know the ones I mean. No tablecloths. Order at the counter. Grab your own plastic utensils and drinks. And then wait for your order to appear on giant paper plates.
When I discover a dive that sets my taste buds singing, I'm in heaven. At that moment, it's all about the food. These place don't depend on ambiance because there isn't any. But the food…? OMG!  Whether ethnic, American, breakfasts, lunches or dinners, I don't care. When I find an eatery that makes we want to keep it on my list of "regulars," I'm so happy.
I love Greek food. In Houston, I ate at Niko Niko's, which i think I mentioned in an earlier post. I lunched there every week, never minding the wait to order. You can imagine that I sure wasn't the only one in the place at lunchtime. The meal was worth the wait. Eventually, long after I discovered it and long after the owners enlarged it, the Food Network discovered it, too. It was featured on Drive-Ins, Diners, and Dives. But I get a kick out of know that I was there first!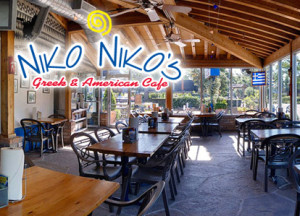 I never, ever thought I'd find another Niko's in Florida. But…drum roll please — I did!
Leave it to my golfer guy to drag me to this little place where the restrooms are in the outside of the building. What the H…?  But clean inside. And the gyros…freshly sliced meat, and oh, oh, oh! The homemade tzatziiki sauce..(picture me kissing my finger tips). Delicious! The Greek salad, always one of my choices was delicious, too. So, now I'll got to Peck's for a real gyro and Greek salad. A new great dive. Maybe one day, it will be discovered by the Food Network. In the meantime, they've opened a second location – same family ownership – and everyone who goes there raves about it.
Just for the record, I'm picky about Italian food, too. There's Italian and then there's ITALIAN–when that first forkful of lasagna almost melts in your mouth, and you know you're in Italy. This goes for pizza joints, too. I will try any pizza joint once. But it's got to be way above average to land on my list of regulars.
Now, let's switch gears and talk about pancakes. Why? Because I love them! I had a place in Houston called Frank's. For $5.75, you ordered from a big breakfast menu…which was available throughout the day. Frank's pancakes with a side of thick bacon slices got me through the weeks of chemo and visits to the plastic surgeon when my expanders were being filled in order to get me ready for implants. That experience was worse than the chemo, which in hindsight wasn't too bad. I really looked forward to my pancakes at Frank's as my reward for the fills. The portions of food were bigger than my stomach could hold. The pancakes, themselves, were the size of the dinner plate. But again, I was in heaven. Have I mentioned that I love pancakes?  French toast, too. And Belgian waffles.
Once more in Florida, my sweetie took me for a ride. First, of course, we have to accomplish something. We never just "go for a ride."  In this case, we dropped off donations at Goodwill, which was a bit self-serving as we got to clean out the garage a bit. After unloading the car, my golfer guy says, "I know a place…for pancakes."  Well, he didn't have to ask me twice. Off we drove to Poppi's.
It might have been Franks. It looked so similar with the casual booths and tables–no cloths–and with the efficient and friendly waitstaff. Windows all around.  But the true test is always measured by the food. The pancakes matched the circumference of the plate. Oh, yeah. Three strips of bacon sat on the side dish. My heart started doing a tango. I drizzled the maple syrup just on the part I would cut. My fork slipped through the two layers, and I ladled it into my mouth.The outside of the pancake had a slight crispy coat–unusual and delicious. Rapture! Another OMG moment for me. I'd found home. In Florida.
I won't embarrass myself in a high class French restaurant. But I'm basically a low maintenance gal who appreciates quality in the basics. I can usually take it or leave it in regard to food. Truly, I'm not a foodie. But if I visit some good dives on a regular basis, I just might become one.
How about you? Do you have a favorite inexpensive restaurant that sets your palette singing? A favorite food style that you MUST have from time to time?  Let me know in the comment section.
As always, that so much for stopping by. I hope to see you for the next edition of Starting Over.

LEAVE A COMMENT AND YOUR NAME WILL BE ENTERED INTO MY JULY CONTEST. Prizes are a choice of two books written by the award-winning writers of On Fire Fiction, plus a $25 gift certificate to Amazon or BN. Remember, some of these stories are hot, hot, hot, while others…not so much.  Your choice!