If you're a fan of historical fiction, you depend on the author to provide an accurate setting for her story. Whether it's England in 1215 at the signing of the Magna Carta or American soldiers landing on the beaches of Normandy over seven hundred years later, an enthusiastic reader will slam the book shut if mistakes in geography, dress, cultural mannerisms, scientific inventions are found. Readers expect to be drawn into the story completely. They want to be a part of that distant time, and they can be — within the pages of a well written book.  Historical fiction devotees often have favorite time periods they enjoy reading about. Regency England comes to mind. Or the Viking period. Or Colonial America. Or the settling of the American West. Authors are expected to have expertise in showcasing the attitudes and conventions of the times as well as the physical setting.
This is not a novel but a reference book about everything Regency – clothing, clubs, royalty titles, entertainment, food…etc.
What about authors of contemporary stories? The general perception is that they–myself included–get away easy.  We don't have to bother with research because we live during the time period we write about, and therefore, we know it through osmosis and observation. The things we take for granted — television, computers, airplanes, rocket ships, supermarkets–are obvious. Who needs to research? Well, let's see…
Try writing a police procedural and getting the crime scene wrong. Readers will condemn you forever, as well they should.
Try writing about a health condition without getting your facts straight, and you'll hear about it. Try writing about a career…let's say air traffic controller, hospital administrator, or bakery owner…and not understanding what goes on behind the scenes…fugeddaboutit! You'll have lost your readers forever. They simply won't trust you to tell a story they can believe in. So, authors of contemporary fiction do a lot of research before writing the first paragraph of a new work.
A few years ago, I wrote a four book series set in the fictional town of Pilgrim Cove, MA. The town was modeled on a real town south of Boston along the Atlantic coast. I spent hours figuring out the tides and weather patterns in all seasons. I discovered the existence of a commuter ferry service to Boston. I researched the businesses a town that size could support. And then began the particular research regarding each main character's background including their careers.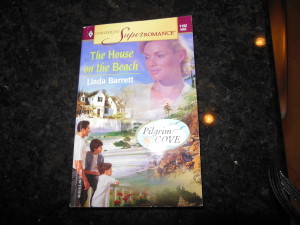 In the first book, The House on the Beach, the heroine was a voice-over announcer doing radio commercials. What does a recording studio look like? Who would be with her? Does she have an agent to help get assignments? Her background in speech and linguistics helps her connect with the hero's young son, a boy who stutters. My research included the causes and types of stuttering and how those around the child should react to him. The hero of the third book, Reluctant Housemates, was a marine biologist. I have a fat folder on that topic! And when trouble on the ocean came calling, I discovered how a Fresnel lens works, the kind used in lighthouses.
Recently, I had the idea to return to Pilgrim Cove and catch up on what's happening. There's a veterinarian, a single dad, who wants nothing to do with romance. If I proceed, I see tons of research ahead regarding veterinary clinics, common illnesses of dogs and cats. How about birds and bunnies? This vet happens to be part of the local greyhound rescue association. So, now we're getting specific, from dogs in general to greyhounds and the characteristics of that breed as well as the effects of living the life of a top notch canine athlete. I started browsing this material and was blown away at the tough adjustment these wonderful dogs have when adopted by a forever family.  Of course, a romance is also brewing despite what our hero thinks. So more research awaits on the background of the heroine.
Almost all authors find the research part fun! It challenges us to learn about stuff we never knew before. And it's interesting. But here's the bonus:  good research might provide plot points for the story, plot points that the author wouldn't have thought about on her own. You know how you want to look up something on Google? And how that one search can lead to ten more searches?  Well, that's what it's like for a writer to throw herself into her job. I love it!
So now, as part of my research, I need a favor:  can you comment on whether you'd be interested in visiting Pilgrim Cove with me? I'm thinking about setting several new romances in that town. Each romance would stand alone, but the townspeople and the town remain constant. You could jump right in, and it wouldn't matter if you hadn't read the first four books. Would readers believe that?
As always, thanks so much for stopping by. I hope to see you for the next edition of Starting Over.

NEW CONTEST FOR NOVEMBER:  I'm celebrating my co-authors of our Celebrate! anthology which was released last month. The winner of the November contest gets to choose two books from the list below. All are other works written by Rogenna Brewer, Barbara McMahon, Deb Salonen, Karen Sandler and moi.